SCULT Awards 2018 – Most outstanding sport volunteers and event organisers receive recognition
This blog post was written as part of the Erasmus+ Sport Project "Internationalization of the Sport Volunteers Movement SCULT.com", co-funded by the Erasmus+ programme of the European Union.
SCULT World Sport Volunteer 2018 – Jenni-Kaija Tiainen
For many years, Jenni-Kaija has been a tremendous help when it comes to organising sport events. She is active and does great work in her own gymnastics club as well as the Finnish Gymnastics Federation. She is the kind of volunteer organizers value highly and hope to have in the future! The ambassador of Finland in Estonia received the award in Jenni-Kaija's name.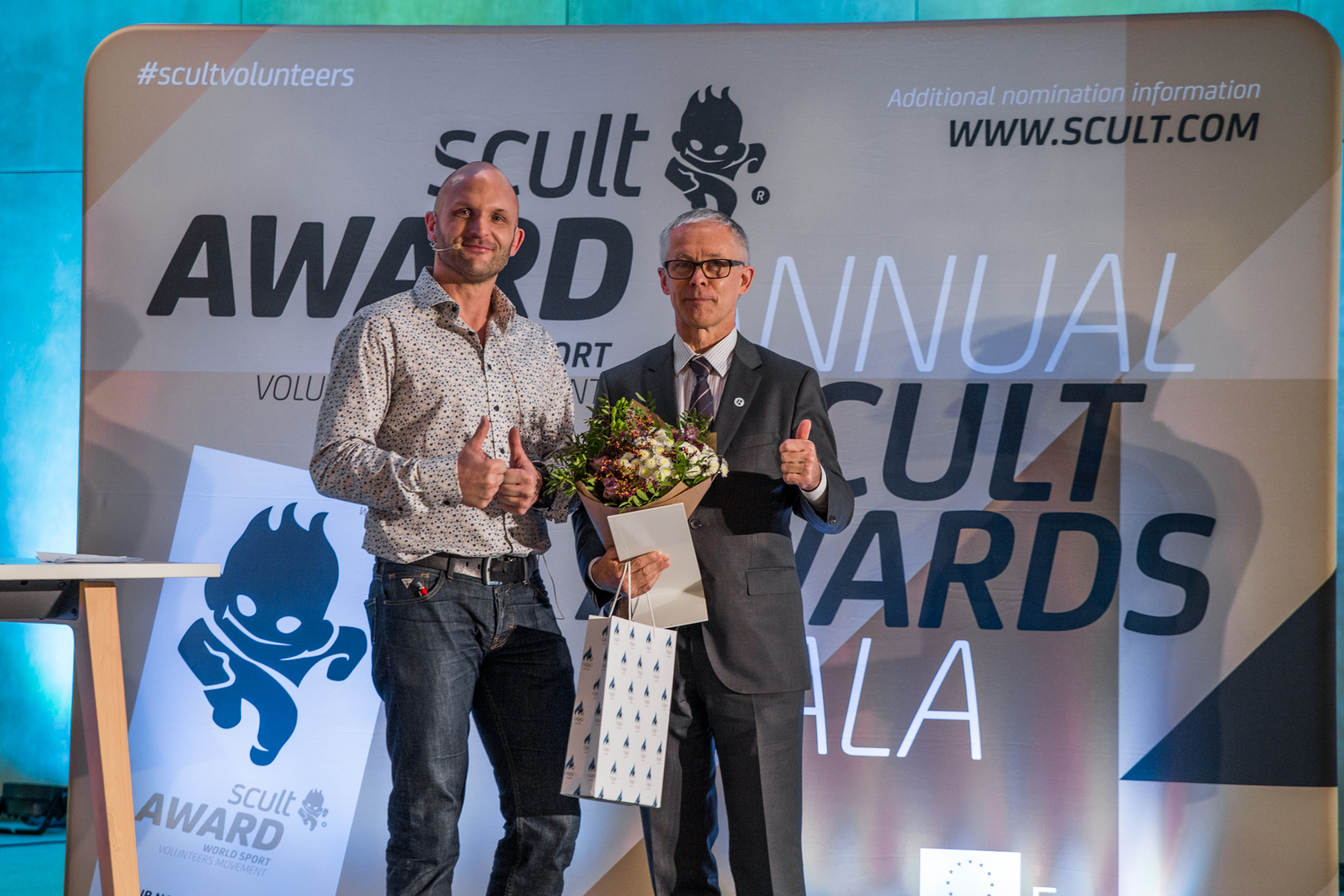 Timo Kantola, the ambassador of Finland in Estonia, receiving the award in name of Jenni-Kaija
SCULT World Sport Organiser 2018 – Lithuanian Children Games 2018
This year the prize belongs to an event that made a huge contribution to increase people's movement habits and help achieve a healthier and more sporty society. The Children Games engaged 2400 pre-school teachers from 217 Lithuanian kindergartens. Over 10,000 preschoolers participated in the project. Without the help of volunteers, this event would not have taken place.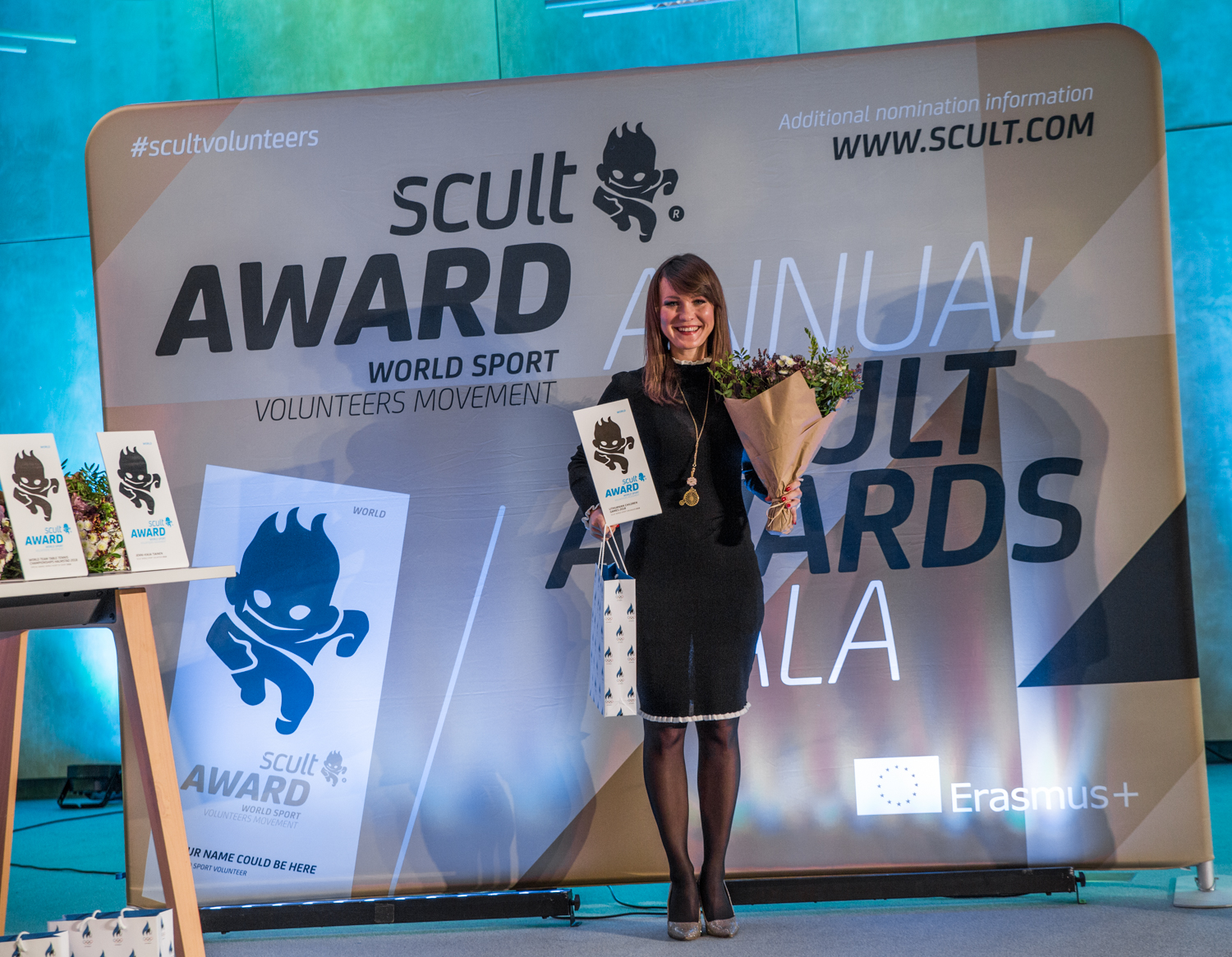 Vilija Gerasimoviciene representing Lithuanian Children Games
SCULT World Sport Friend 2018 – Laurent Thieule
This year the prize was awarded to Laurent Thieule, who has devoted himself to volunteering for over ten years. Laurent has spent a lot of time analyzing the social roles of sport both inside and outside his own country. It is also great recognition that he has taken the aim of treating all people equally and offering sporting opportunities to everyone. Laurent is the President of Sport and Citizenship Think Tank.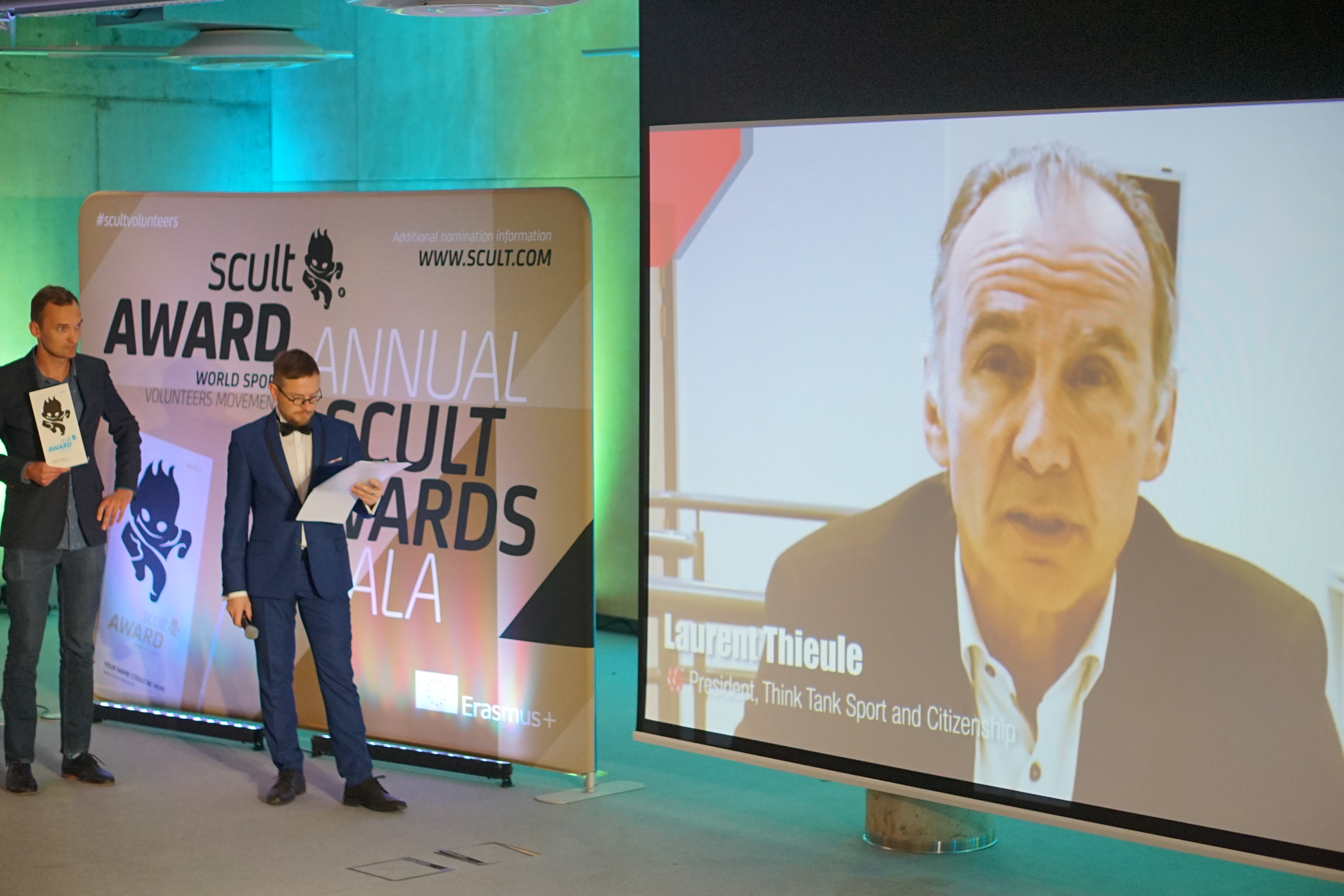 Laurent Thieule sending his greetings
SCULT World Crazy Award 2018 – Verein Kanu World Championships Muota 2018
In addition to the World Championships races, the Kanu WM organisers also did a race for the public. What made it so special was the fact that the winner was not the first one to cross the finish line, but the participant that finished right in the middle.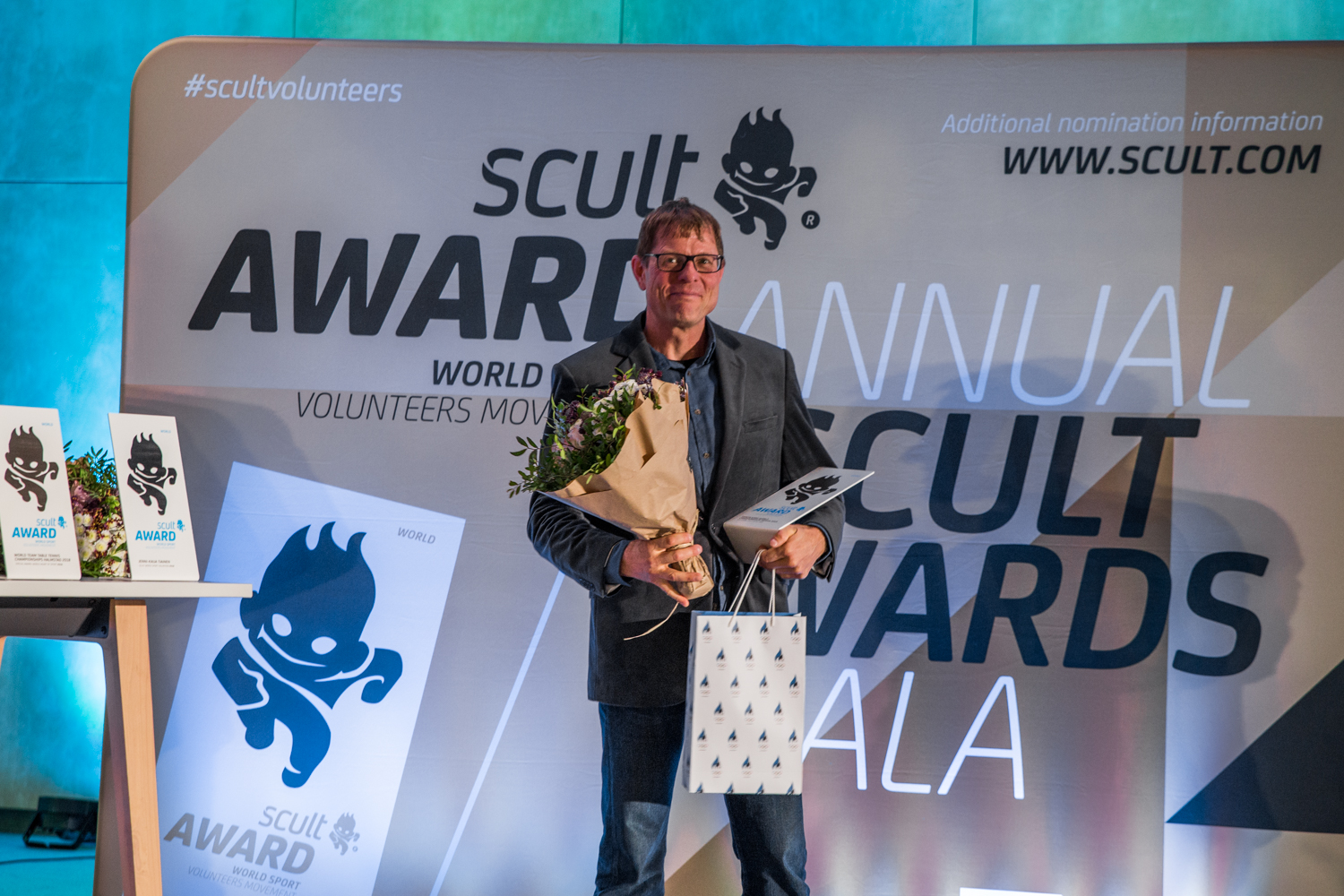 Mr. Peter Lüthi representing Verein Kanu World Championships Muota 2018
Special Award: World Heart of Sport 2018 – World Team Table Tennis Championships Halmstad 2018
This year, Halmstad became the smallest town to ever host the World Championships in table tennis. At the same time, a very large portion of the local community were successfully involved in organising the event. The event was a huge success with over 300 million TV-viewers in 140 countries world-wide and 28000 articles produced about the event.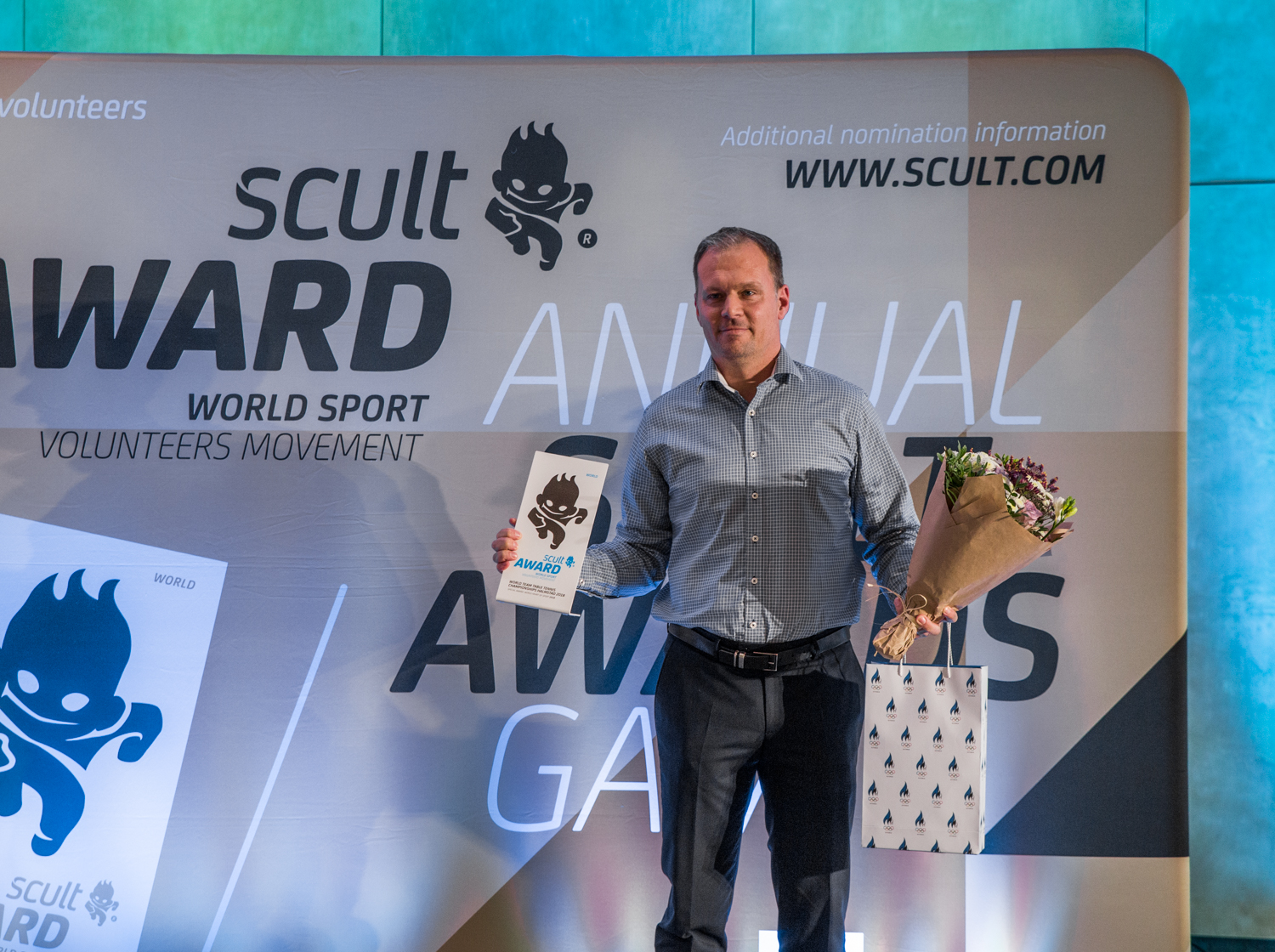 Mr. Thomas Buza from the Swedish Table Tennis Association
SCULT Estonia Sport Volunteer 2018 – Krister Randver
Krister's everyday job is in the public sector, yet he dedicates every moment he can find to the success of different Estonian sports events. Every year, Krister's portfolio is supplemented by tens of sports events all around Estonia.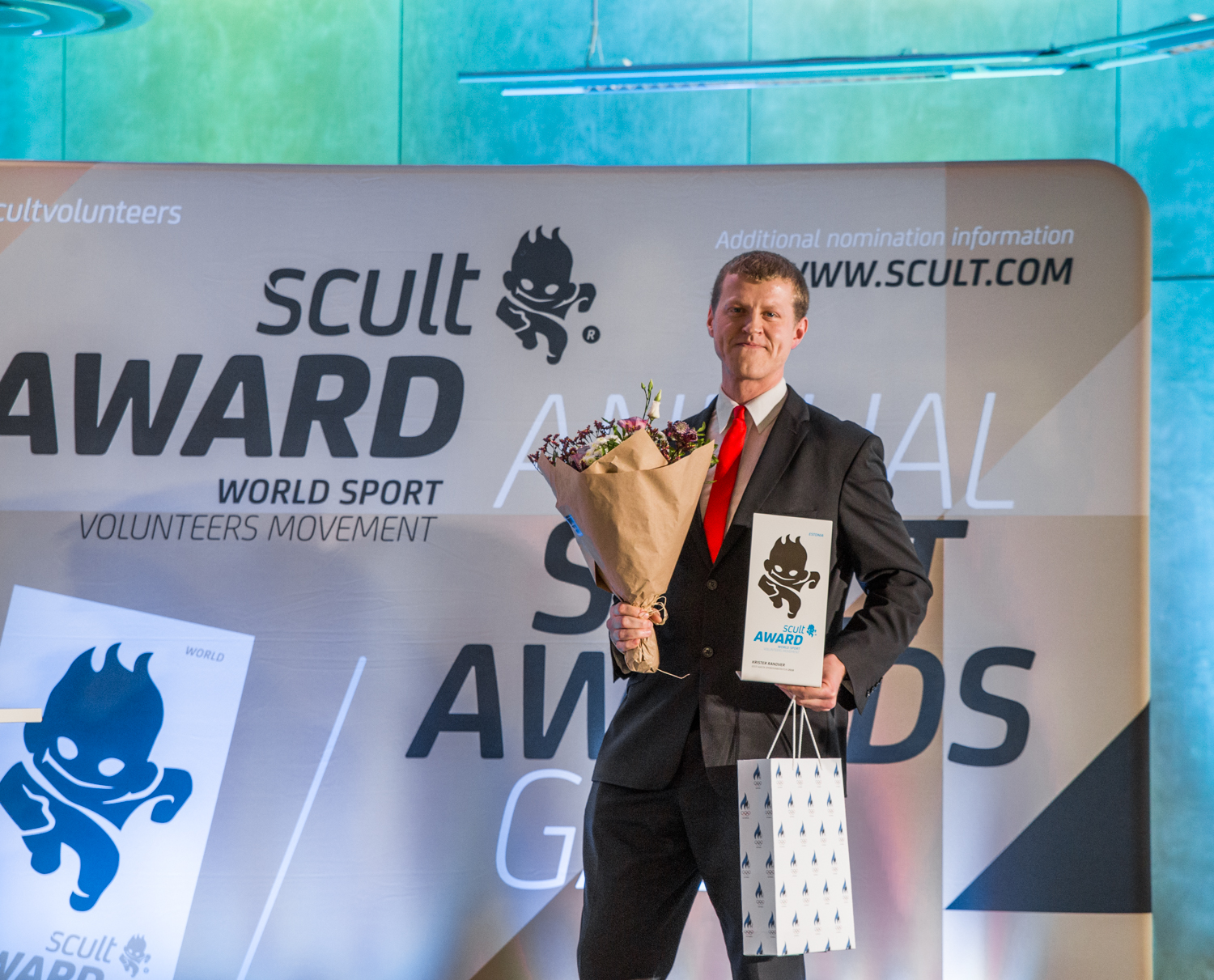 Krister Randver, Estonian Sport Volunteer of the Year
SCULT Estonia Young Sport Volunteer 2018 – Romet Leimann
Romet has managed to assist in organising lots of sports events during his 13 years – 31 of them in total. When asked about where his love for volunteering comes from, he answeres without any hesitation: "straight from the heart!"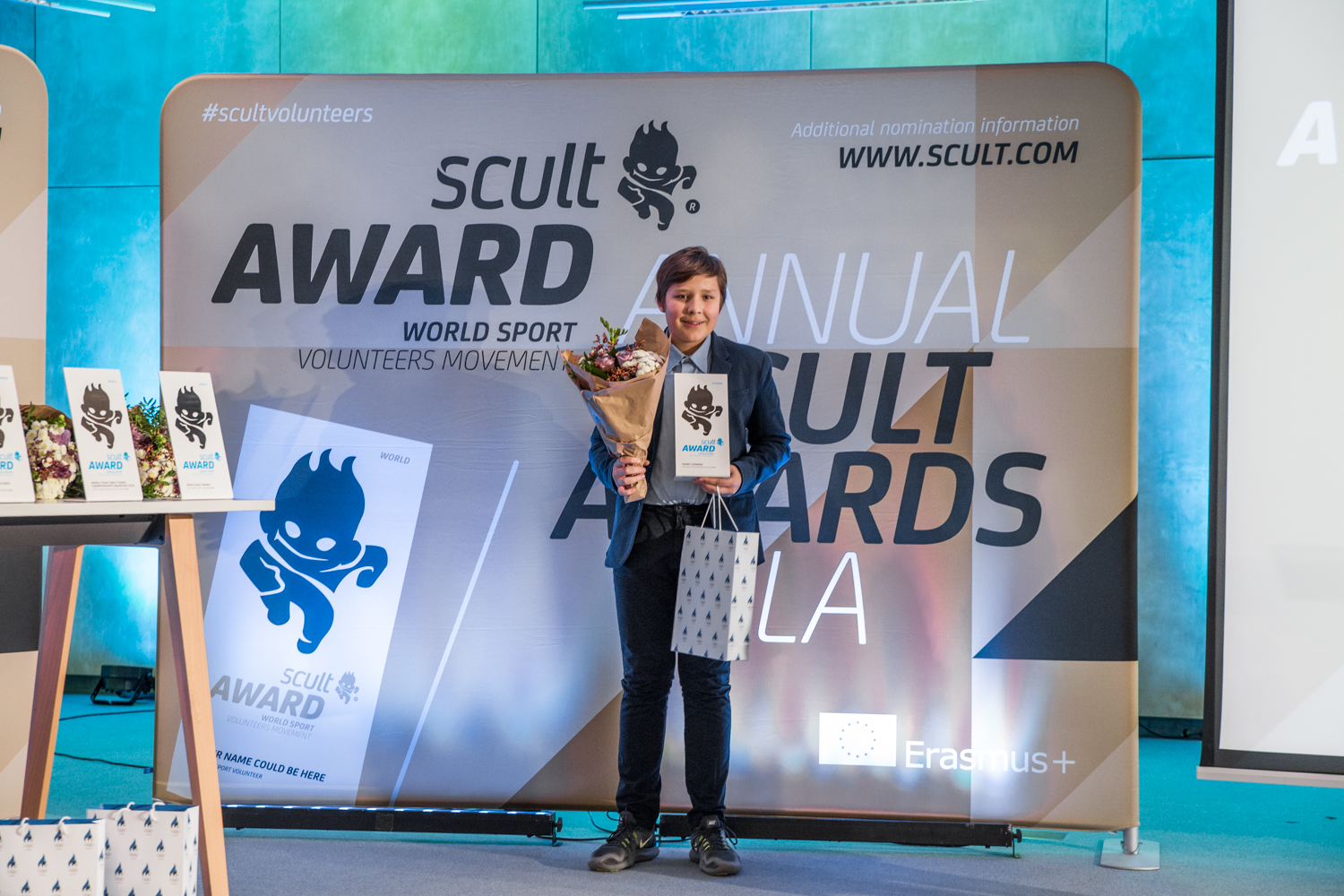 Romet Leiman receiving his award
SCULT Estonia Motivator of Sport Volunteers in School 2018 – Pille Juus
Pille has volunteered at all kinds of sports events. She believes it's very important to cultivate proper moving habits in children from an early age, so she brings people closer to sports every day, at work and in her private life.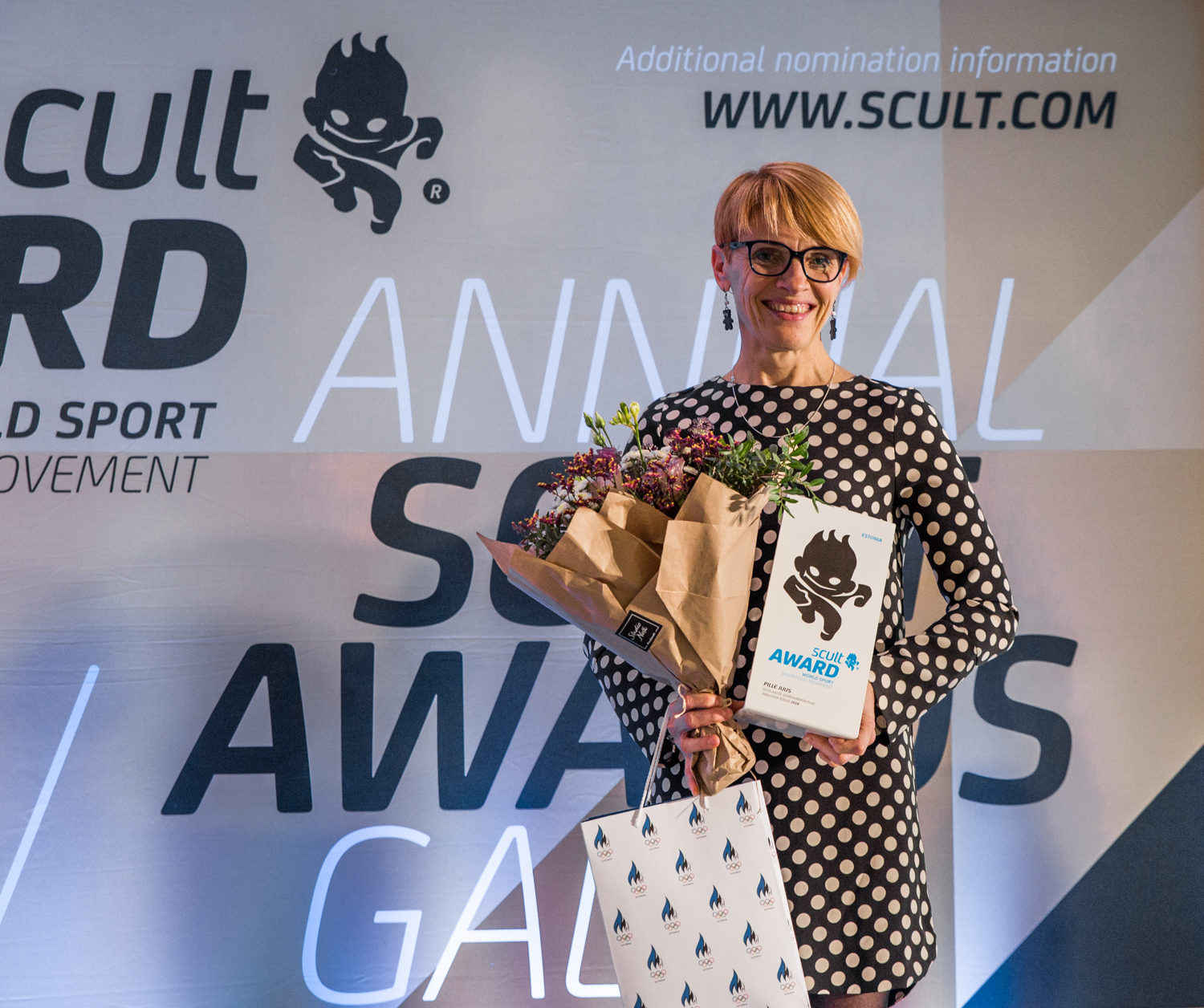 Pille Juus, the most outstanding PE teacher
SCULT Estonia Involver of Sport Volunteers 2018 – Riina Altpere
With Riina's leadership, Pärnu Kahe Sille sportsclub has established a system to better involve and motivate volunteers. This system plays a huge role in the successful organisation of many sports events around Pärnu. Riina is a real team player – she has managed to involve volunteers of all ages and backgrounds, many of whom have stayed active in volunteering for longer periods.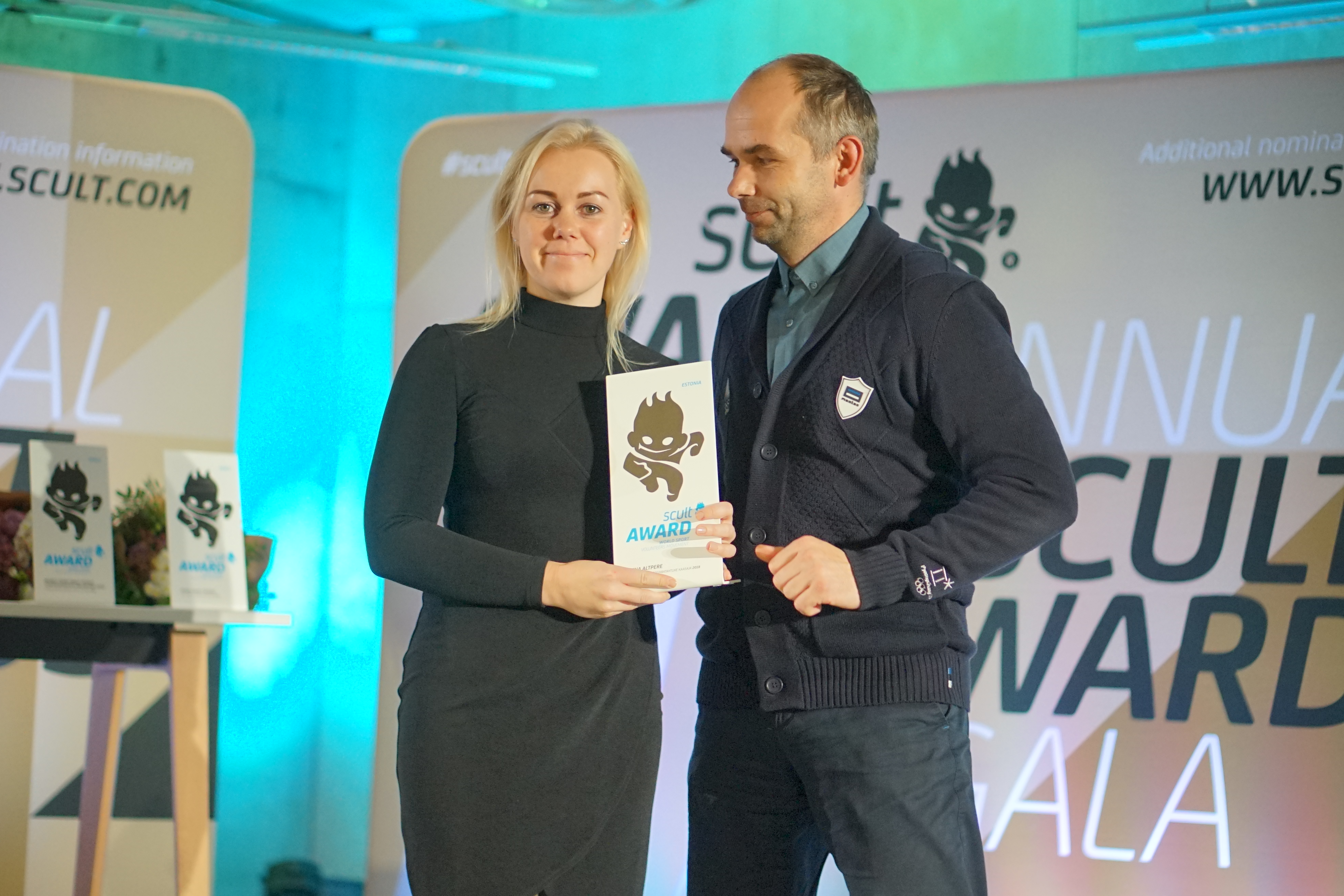 Riina Altpere and Aivo Normak
SCULT Estonia Friend of Sport Volunteers 2018 – Mait Müürisepp
With Mait's leadership, the Kalevi infantry battallion has provided heaps of quality volunteer help to numerous sports events. According to his colleague, the construction of the catering area for IRONMAN Tallinn was a "walk in the park" thanks to Mait and his crew.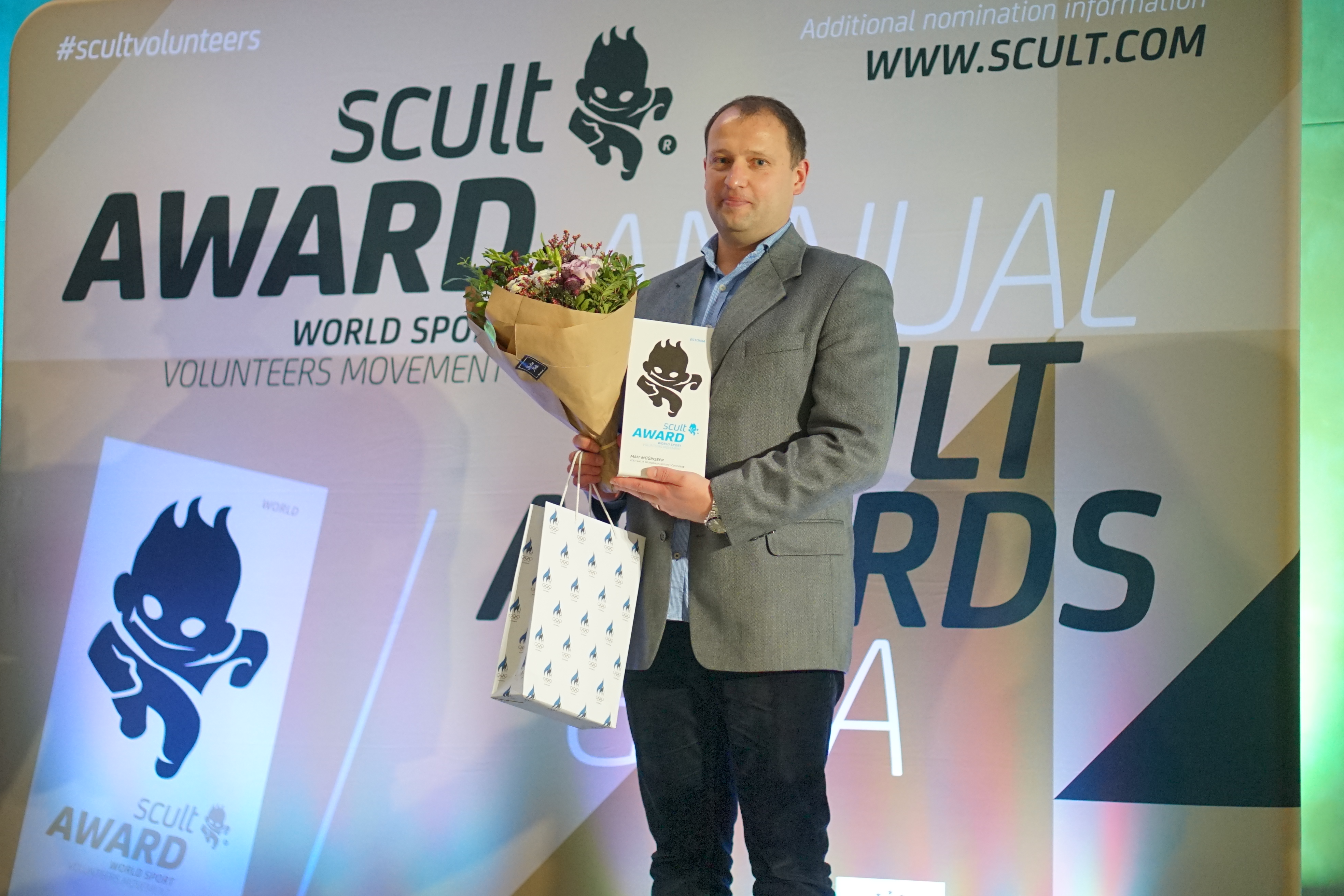 Mait Müürisepp
Special Award: SCULT Estonia Friend of Sport Events 2018 – Estonian Academy of Security Sciences in Paikuse
The Paikuse Division has been helping around in many Club Tartu Marathon (and other) sports events, regulating traffic, providing security and so on. They have found a great way to connect practice and volunteering.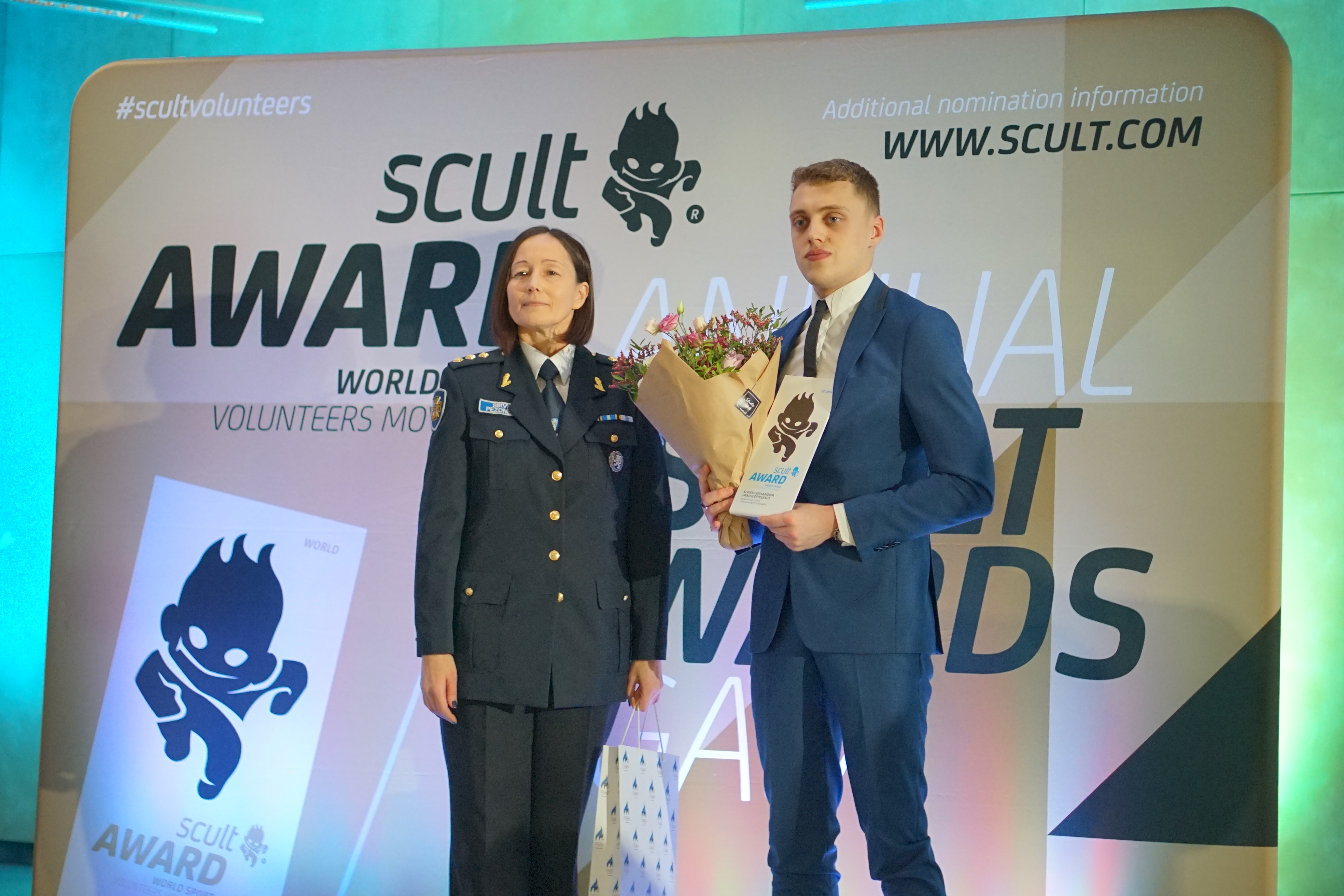 Representatives of Estonian Academy of Security Sciences in Paikuse
Special Award: SCULT Estonia Specialist Sport Volunteer 2018 – Veido Lääne
As a lifesaver, Veido has been responsible many high importance tasks in many triathlon events. He is normally responsible for the accurate placement of buoys in the swimming area, taking measurements and coordinating the location and activities of the entire lifesavers crew. In addition, he has managed to bring other colleagues of his closer to volunteering.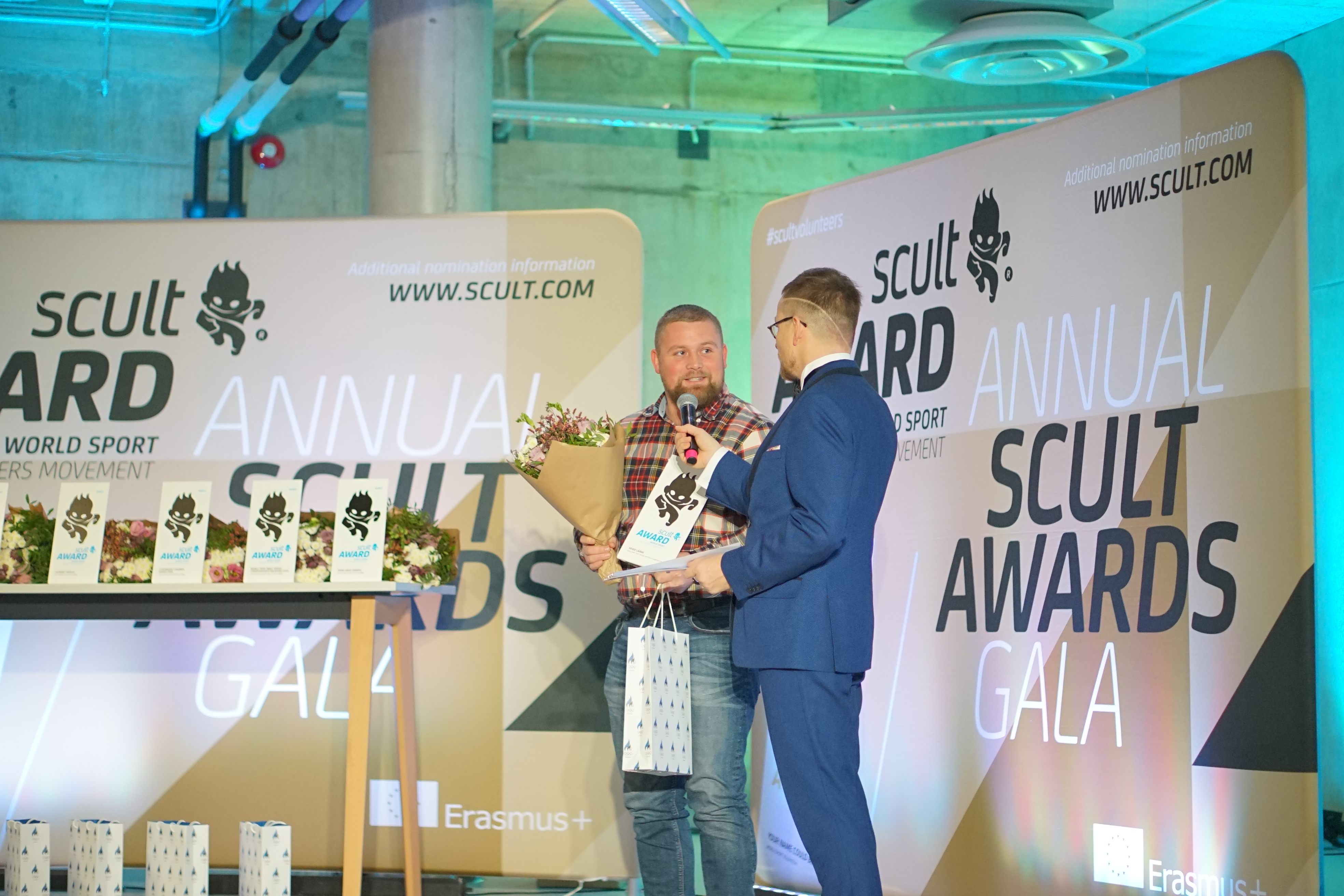 Veido Lääne aka "The Specialist"